Paramahansa Yoganada, the widely renowned exponent of Kriya Yoga, founded Yogoda Satsanga Society of India (YSS) in 1917 to disseminate his timeless teachings. It has four ashrams across India dedicated to embracing and nurturing truth-seekers as well as delivering humanitarian work.
Yogoda Satsanga Sakha Ashram, Noida is the youngest of its four ashrams. It was established with one of the specific aims to hold spiritual retreats round the year and the larger vision to function as spiritual hub of YSS in North India. Sprawling over lush-green tranquil five-acre land, it is located on Paramahansa Yogananda Marg in Sector-62 that overlays the holy Yamuna's old river bed.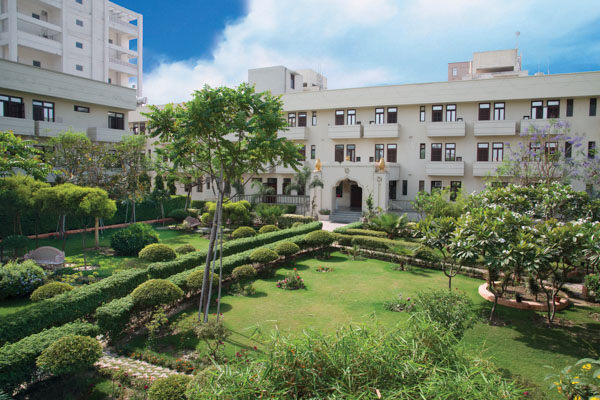 History
This ashram is unique in many ways. Sacred soil from the other senior ashrams in India and abroad was lovingly sprinkled to sanctify its ground by Swami Vishwanandaji, even before the foundation stone laying ceremony. On 4th of May, 2006, the foundation stone was anointed with pious waters of various holy rivers across India.
The construction of the Ashram was planned in several stages. In the first phase over next four years, the Administration building and two Retreat blocks were built through tireless efforts and generously received resources. This bliss-laiden oasis for parched city-dwellers was inaugurated on the 3rd of January, 2010 in the presence of more than 1300 devotees. Swami Sudhhananda unveiled the main entrance and offered the first pushpanjali at the basement meditation hall, along with Swami Shraddhananda and Bramhachari Nisthananda. At the same time, Swamis Nityananda, Hiteshananda and Lalitananda opened ajar the doors of the two retreat blocks.
Since then, this 'hive' has been percolated with 'honey' of divine love bestowed by the YSS line of gurus through regular sangams, and frequent individual as well as conducted group retreats. Above all, the sacred Kriya Yoga Diksha ceremony, the formal initiation of an interested seeker to the YSS spiritual path, organized at least twice a year, has continued to provide easy access to the gateway to Self-realization for many a devotee of the region.
Numerous remarkable events dot the track-record of this ashram including launch of books such as Songs of the Soul and electronic resources such as the DVD The Life of Sri Sri Paramahansa Yogananda: the Early Years in America (1920-28)). Inspirational Gita talks by Swami Smarnanand, the General Secretary and monk in-charge of YSS India are organized every year.
On 20th, December 2013, the road adjoining the ashram was named Paramahansa Yogananda Marg, with the efforts of Sri Alok Ranjan, Chief Secretary, Uttar Pradesh. The Ashram hosted the first International Day of Yoga (IDY 2015) celebrations introducing the universal appeal of Gurudeva's teaching to as many as 50 newcomers. On the eve of second IDY in 2016, the Ashram organized a nation-wide premiere of the multiple award-winning movie on Gurudeva - Awake: the Life of Yogananda.
In the recent years, the ashram has opened its arms of selfless service and warm solace by offering free coaching classes and free multi-specialty dispensary – both devoted to the underprivileged sisters and brothers of the society. The coming years will see the expansion of the ashram in different phases including creation of a dedicated Dhyan Mandir.
Amenities and facilities
The three-storey Administration Block has a full basement that houses a large meditation hall. Reception, Library, Matri Mandir, Counselling rooms, Offices and Kitchen/Dining halls are on the Ground Floor while the other floors accommodate rooms for sanyasis as well as 40 rooms for transiting devotees and sevaks.
The two Retreat Blocks called Sadhanalayas, one each for men and women, housing 30 rooms (double bedrooms with attached bath and veranda) and three dormitories each, are a specialty of this ashram with the sole purpose of encouraging individual retreats. An airy multi-purpose pandal along with a large lawn serves to host elaborate sangams and special days of commemoration such as birth and Mahasamadhi anniversaries of the YSS gurus.
The well-maintained surroundings landscaped in comforting theme of traditional ashrams are replete with peace-evoking greenery. An eye-soothing central garden with sitting areas and gajebos for solitude as well as spiritual bonding further highlight the distinctive charm of the ashram. In the second phase of construction, a spacious Dhyana Mandir, a monastic residential block, a service block for resident employees and a charitable service block are likely to come up soon.

On the whole, the ashram has been conceptualized to particularly facilitate individual retreats of 3-7 days, a period wherein the devotees are urged to take a plunge in the profound practice of silence, introspection and quiet reading to deepen one's sadhana. Such rejuvenating sessions are also interspersed with opportunities for revitalizing group meditations, corrective reviews of meditation techniques and counselling by the monastics.
Conducted Retreats, held according to annual schedule for an audience confirmed at least 15 days in advance, are organized mostly over weekends throughout the year. They are led by sannyasis and comprise of 2 to 3 days of silence, morning-evening group-meditations, and reviews of techniques and guruji's teachings including How-to-live principles. Around 3000 devotees utilize the uplifting premises annually for retreats. In addition, an average of 350 devotees gathered from across the nation is accommodated during five-day sangams that are held once or twice a year in the ashram precincts.
Another attractive feature for seekers from near and far is the Sunday Satsanga open to general public that consists of a brief guided meditation leading to informal speech (satsanga) by one of the resident sannyasis. These satsangas are also accompanied by Children's Special Satsanga, focussed at inculcating meditation and peace-loving habits in kids. Every Sunday, a group of children aged 5 to 12 years regularly gathers during these sessions in the Bal Kutir.
Transit accommodation can be arranged for any devotee by prior intimation who is visiting/transiting the NCR region for pilgrimage or work for a period not exceeding 3 days.