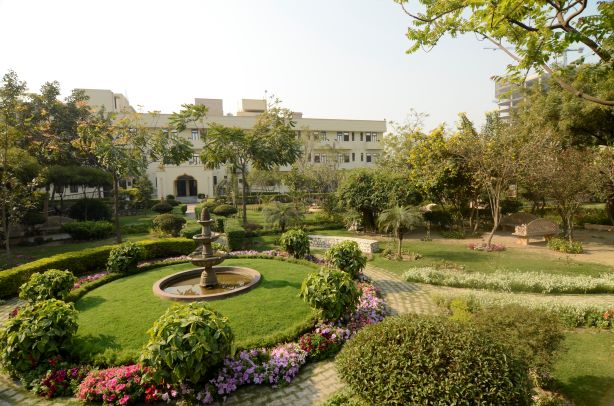 Gurudeva Sri Sri Paramahansa Yogananda says, "Schedule your life. Don't waste time. If you socialize with people all the time, you can't amount to anything. Be by yourself. Get away from people and dive deep within yourself. Ask, 'How am I going to succeed?' Whatever you want to do, think about it until you are lost in that idea. Think, think, think, and make plans. Then take a little time; don't jump into anything at once. Take a step, and then think more. Something within tells you what to do. Do it, and think some more. Some further guidance will come. By learning to go deep within, you will connect your consciousness with the super consciousness of the soul, so that with infinite will power, patience, and intuition you can grow those idea-seeds of success".
The Noida ashram of Yogoda Satsanga Society of India (YSS) offers this opportunity through its sangams for individual solitude and contemplation in its sylvan environment and spiritual vibrations charged with Guruji's presence.
The schedule for the annual Sangams at YSS Noida Ashram in 2019 is as follows:
1

March 13 – 17

Wed (9 am)to Sun (7 pm)

Sangam I

(Kriya Diksha on Mar 17, Sun)

2

March 27 – 31

Wed (9 am)to Sun (7 pm)

Sangam II

(Kriya Diksha on Mar 31, Sun)
Please Note for Sangams:
Registration for Sangam with accommodation facility has been closed. Devotees may register to attend the Sangam, without accommodation, through our website (www.devotees.yssofindia.org).
Kriya Diksha will be given to eligible students during the Sangams on Sunday, March 17 (Sangam I) and Sunday, March 31 (Sangam II). To be eligible for Kriya Diksha, one should have received at least 52 Lessons, should have been practising the Energization Exercises, Hong-Sau and Aum techniques regularly twice daily for several months, and should have submitted satisfactory answers to Step I and Step II Questionnaires. For more information, please contact YSS Noida Ashram.
Classes and talks in the March Sangam will be in Hindi.
Shared accommodation will be provided within the ashram.
Ashram will not be able to cater to devotees who have special needs, such as for food, accommodation, etc.
Devotees coming by chauffeur-driven cars will have to make boarding and lodging arrangements for their chauffeurs on their own. Ashram will not be able to help them in this regard.
For any further query related to Sangam I and II, please call YSS Noida Ashram at 9899811808, 9899811909 or at +91 (0120) 2401670, 2401671 and 2401672.