The sacred day of Guru Purnima drew hundreds of devotees of Gurudeva Sri Sri Paramahansa Yogananda to Yogoda Satsanga Sakha Math — Noida on July 3, 2023 for a day-long celebration.
The ceremonial carrying of the palanquin with the portrait of Yoganandaji was the first highlight of this special celebration. Around 225 devotees participated in the prabhat feri. Singing devotional chants, they took turns carrying the decorated palki around the ashram campus. This was followed by a special group meditation led by Swami Lalitananda.
Joyous faces were seen on the ashram grounds throughout this special day. As the day progressed, more and more devotees started arriving to attend the commemorative programme. Many devotees used this special opportunity to dive deep into meditation with fellow devotees inside the serene Dhyana Mandir of the ashram. Some others sat in the ashram lawns and soaked themselves in the peace and bliss offered by this spiritual oasis in the hub of activity.
At around noon, volunteers served food to the general public as part of the Narayan Seva. It was led by Swami Swarupananda along with some volunteers who took turns offering guru seva. In the next two and a half hours, about 1600 people were served halva, poori, and sabzi.
In the evening, around 850 people including devotees and their friends and family members joined a commemorative meditation and satsanga conducted by Swami Adyananda at the Dhyana Mandir. The attendees beheld the sight of a beautifully-decorated altar, complemented by the divine image of Gurudeva framed and adorned with a floral garland.
Swami Adyananda spoke on the value of this ancient and sacred tradition of paying homage to the guru in a devotee's life. He delved into the guru-disciple relationship, mentioning ways to strengthen this divine connection. This special event was concluded with aarti and pushpanjali, followed by the distribution of prasad by YSS monastics. As the day came to a close, devotees were ushered to the kitchen pandal where langar was served.
Celebrations at YSS Delhi and Gurugram Kendra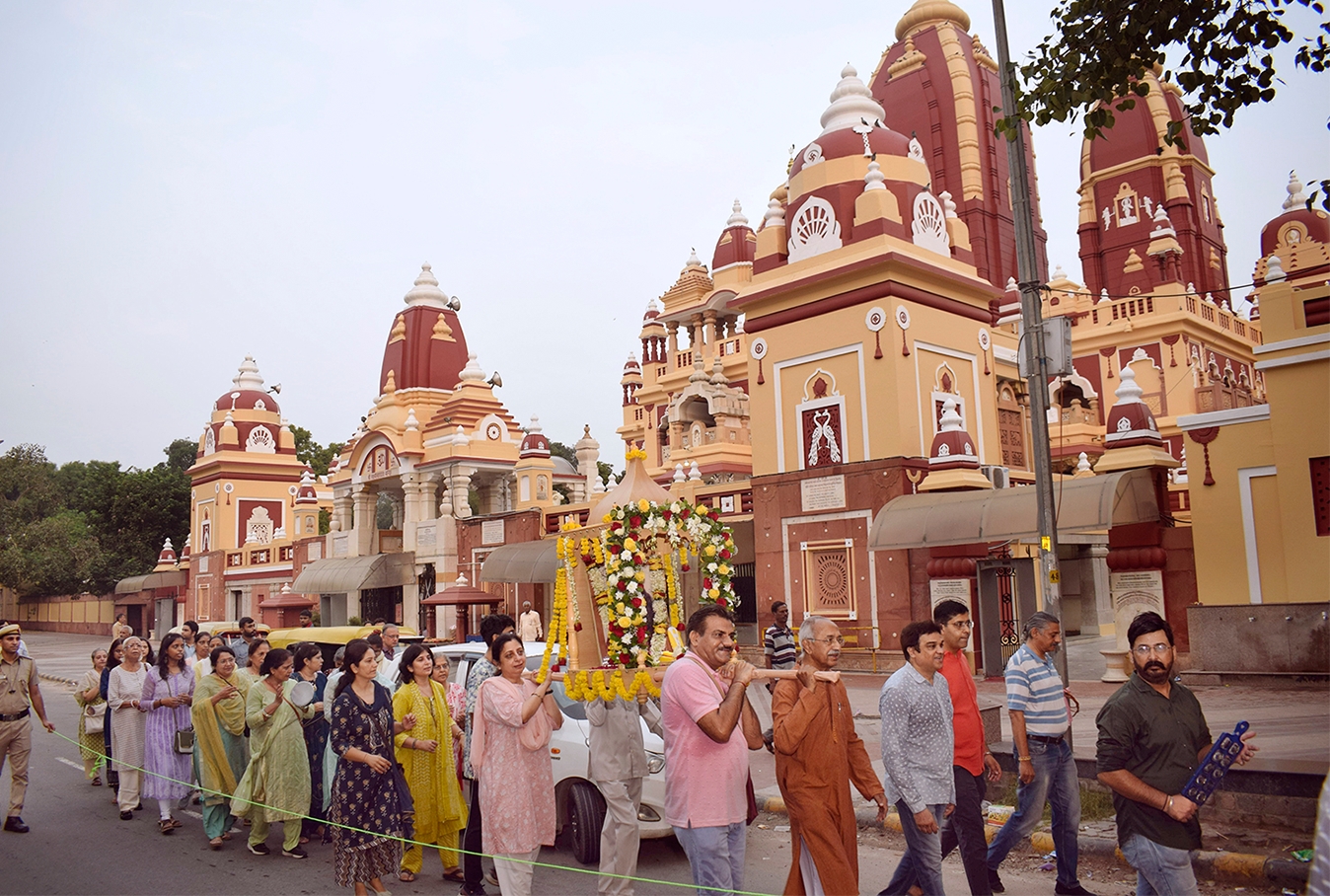 On this scared occasion, separate commemorative programmes honouring Gurudeva Paramahansa Yogananda were conducted at YSS Dhyana Kendras in Delhi and Gurugram.
In the morning, devotees joined prabhat feris at the two meditation centres, and carried the palanquin with Guruji's portrait in a procession covering the neighbourhood. Meditation and satsanga were led by Swami Swarupananda in Delhi Kendra, and Swami Lalitananda in Gurugram Kendra. Devotees volunteered enthusiastically to serve prasad to the general public during the Narayan Seva activities at the two centres.