Teaching children how to live happy, balanced lives by bringing God into their daily activities, and by developing a personal relationship with Him through meditation, was encouraged by Gurudeva, Sri Sri Paramahansa Yogananda.
To serve this end, the Noida Ashram of Yogoda Satsanga Society of India (YSS) conducts its annual summer camps for children providing the participants this wonderful opportunity at an early age.
This year, in its second "How-To-Live" Girls' Camp conducted from May 23 to 28, 2017, the Ashram hosted 47 participants from across the country. Thirty lady volunteers helped facilitate this programme which introduced young girls to meditation and Energization Exercises of YSS, among other things.
An average day for a Girls' Camp participant began early with the practice of Yogasanas, followed by basic meditation and Energization Exercises. Through interesting and educational work and craft projects, children were taught dress designing, basics of music, floral arrangements, dry decoration, emergency handling and first aid, fundamentals of effective communication, Yogasanas, food art and simple cooking.
During the course of the camp, the participants attended discourses on 'Why and How to Meditate?' and 'Living in Harmony.'
F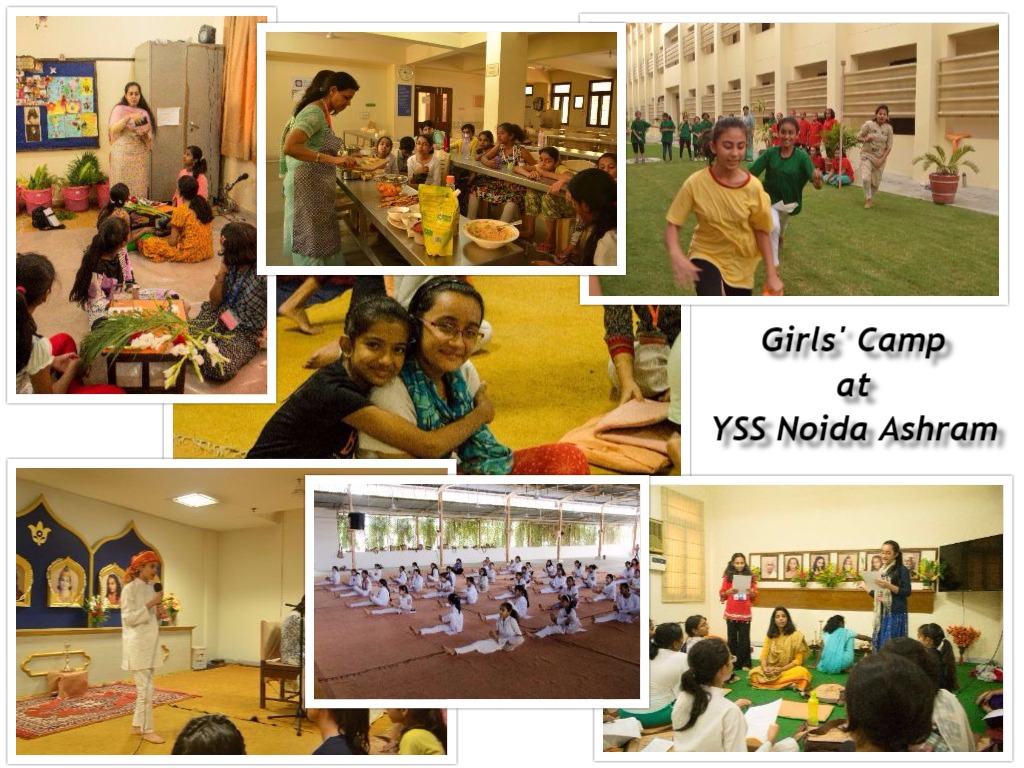 or the young girls in the camp stepping into adolescence, a special interactive class on 'I am Growing' was arranged, which was followed by group interaction with volunteer lady doctors.
Groups of participants met with the monastics of YSS Noida Ashram informally and asked questions relating to spirituality and YSS. Swami Lalitanandaji and Brahmacharis Dhairyanandaji and Sheelanandaji provided the children with answers.
Poetry recitation and story-telling competitions drew out sparkling imagery and confident elocution skills of the talented lot of these little women.
Of course, it wasn't 'all work and no play' for these young ladies. Games such as Kho-Kho, kabaddi, pithu garam and a balancing game made up the 'Sports hour' every evening. This period brought out the best in them, and this play time was extended to the last day. Games such as hulla hoop, tug-of-war, bean throw-and-score and a water bucket challenge in the fun time was marked by shrieks of joy, cheering and beaming faces and an exceptional display of cooperation and team spirit.
The conclusion of this six-day camp was a cultural programme including a skit on Guruji, chants, yogasanas and recitation by the participating girls. It was attended by their families as well as other devotees who applauded their spirited performances. Thereafter, the young guests headed home with their bags and hearts packed with "beautiful memories", seeds of spirituality and a "great learning experience" as shared by some of them.