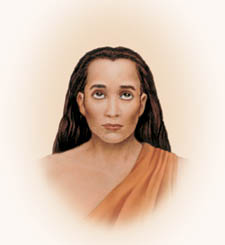 In bestowing Kriya initiation on his disciple Lahiri Mahasaya, Babaji said, "The Kriya Yoga that I am giving to the world through you in this nineteenth century is a revival of the same science that Krishna gave millenniums ago to Arjuna; and that was later known to Patanjali and Christ, and to St. John, St. Paul, and other disciples."

- Mahavatar Babaji (as quoted in Autobiography of a Yogi)
The meeting of Mahavatar Babaji with Gurudeva Sri Sri Paramahansa Yoganandaji has been commemorated as Babaji Smriti Divas by YSS devotees for long. On July 25, 2017, this day was celebrated across NCR with special programmes.
Brahmachari Dhairyanandaji conducted the evening group meditation followed by reading, aarti, bhajans and pushpanjali at YSS Noida Ashram.
This programme was attended by almost 300 devotees in the Pandal while some accompanying children were accommodated in the Children Satsanga room. Attendees were served Guru Langar after the programme.
"After a silence, Babaji added, 'Repeat to each of your disciples this majestic promise from the Bhagavad-Gita: Swalpamapyasya dharmasya trayate mahato bhayat.' ["Even a little practice of this dharma (religious rite or righteous action) will save you from great fear (mahato bhayat) the colossal sufferings inherent in the repeated cycles of birth and death."]

– Babaji talking to Sri Sri Lahiri Mahasaya (as quoted in the Autobiography of a Yogi)