"Group meditation is a castle that protects the new spiritual aspirants as well as the veteran meditators. Meditating together increases the degree of Self-realization of each member of the group by the law of invisible vibratory exchange of group magnetism."
— Paramahansa Yogananda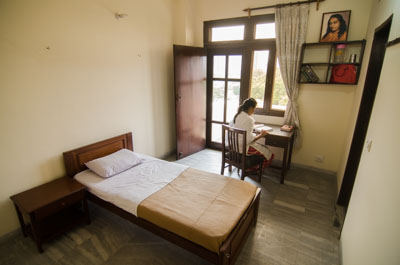 Retreats in February at Noida Ashram - 2017
S. No.
Month/Date
Days/Timings
Event
1
October 6 - 7
Fri (7 pm) to Sun (4 pm)
Retreat (Hindi)
2
October 20 - 21
Fri (7 pm) to Sun (4 pm)
Retreat (Hindi)
Retreats are open only to YSS/ SRF lesson students. Please book in advance, either by calling Noida Ashram or by sending an email to noidaashram@yssi.org or registering on the website.
Request Accommodation
Normally, individual accommodation will be provided within the ashram. However, in summer months those who want AC rooms may have to share accommodation.
The Opening Satsanga is on Friday 8 p.m. Therefore, please plan to arrive on Friday evening before 5 p.m. and depart on Sunday evening or Monday morning.
Classes will be in Hindi, unless it is mentioned otherwise.
Only those devotees who plan to attend the whole retreat may apply.
If there is over-booking for any retreat, preference will be given to those devotees who have not attended any retreat in the past 4 months. Otherwise, booking will be done on a first-come-first-served basis.